Jitters, course problems for paddlers

U.S. OLYMPIC TEAM WHITEWATER TRIALS

By STEVE WOZNIAK
Tribune Staff Writer
SOUTH BEND -- It must have been the first-day jitters.
Penalties were key Friday as whitewater slalom paddlers took to the water for the first day of the U.S. Olympic Team Trials on the East Race.
In men's kayak (K-1), Scott Mann used two perfect runs to edge out Scott Parsons and Scott Shipley with a two-run time of 205.05 seconds. Parsons, hit with six penalty seconds after hitting three gates on his second run, finished with an adjusted score of 208.42, with Shipley close behind at 208.59. Eric Giddens also used two perfect runs, and overcame a lack of the first name "Scott" to put himself close in fourth place at 209.81.
In tandem canoe (C-2), the team of Joe Jacobi and Matt Taylor avoided penalties to squeak by Scott McCleskey and Dave Hepp, 226.74 to 228.44. McCleskey and Hepp hit one gate on their second run, and the two-second penalty knocked them out of the top spot.
Jacobi was a gold medalist in the 1992 Games in Barcelona, Spain and the 1996 Games in Atlanta.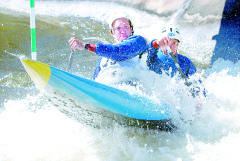 Former Olympic gold medalist Joe Jacobi and
his partner Matt Taylor guide their tandem canoe
through a gate Friday during the Olympic Team
Trials on the East Race.
Tribune Photo/PAUL RAKESTRAW
Despite taking two 2-second penalties, Rebecca Giddens blistered the field in women's kayak (K-1W) with a two-run time of 230.54, more than 13 seconds ahead of second-place finisher Hannah Larsen, the only other paddler who managed to avoid any penalties. National team member Sarah Leith finished third in 249.11.
"I was proud of Hannah. She paddled beautifully today," said Giddens. "Sarah's always good competition."
It was praise for two women who had to have near-flawless runs just to stay within distant reach of the juggernaut Giddens.
In single canoe (C-1), Chris Ennis, fresh off a win in North Carolina's Whitewater Open last month, upset current members of the national team, finishing first in 226.68, just seconds ahead of two-time national champion Sam Davis and Ryan Bahn.
But the bigger story in the C-1 class was the disqualification of Will Seeley for having a boat below the required weight minimum of 22 pounds.
According to officials, Seeley, who is a member of the national team, was required to add a ballast to his canoe to bring it up to specs. A spot inspection after the race, though, showed that the ballast was not present.
Seeley will be allowed to return for the final two days of trials. Racers are allowed to throw out their worst day of times before final scores are figured in the three-day event.
"We just decided for him which day to throw out," said U.S.A. Canoe & Kayak's Angela Lokken.
Mann managed to outdo the country's best after being hospitalized earlier in the week with a stomach virus.
"I got some IVs, I was OK," said Mann, shrugging off the incident. "I was a little dehydrated."
As he showed, there's no better cure for dehydration than lots of water. And maybe a few waves.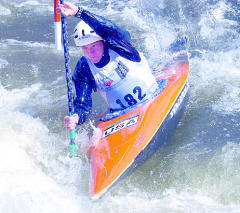 Scott Mann battles the whitewater of the East
Race en route to a top finish in men's kayak
Friday during the Olympic Team Trials.
Tribune Photo/PAUL RAKESTRAW
Parsons was the speediest paddler Friday, but his penalties marred what would otherwise have been the best performance of the day.
"They were all coming up out of the upstream (gates) too low," Parsons said of his penalized gate touches. "And I was probably trying too hard to go fast."
Parsons' three-penalty run was much better than most did Friday.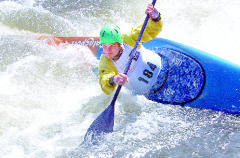 Kayaker Scott Parsons fights through the
rapids of the East Race Friday during the U.S.
whitewater slalom Olympic Trials in South Bend.
Tribune Photo/PAUL RAKESTRAW
Penalties were plentiful and early. At Gate 2 on Friday's course, situated near a flush at the beginning of the course, there were 26 50-second penalties meted out for missing the gate completely, and another 20 two-second penalties for hitting the gate.
"You needed to crank a hard turn," explained Rebecca Giddens on why the second gate was so difficult. "You've got to be light and strong to do that ... a lot of these paddlers aren't that strong."
An upstream Gate 11 followed quickly by a downstream Gate 12 also haunted more than a handful of paddlers. Gate 11 was the cause of 30 two-second penalties, and Gate 12 caused 42.
"That was one of the hardest moves on the course today," kayaker Matt Weldon commented.
"You couldn't control your move," added Giddens. "You just had to let the water take you."
The perfect Mann knew what he was doing, saying, "People were peeling too tight out of the upstream. You needed to make a wide turn."
The Trials will continue on Sunday, with the top three finishers in each class this weekend becoming the new U.S. national team. The national team will travel to Athens later this month to qualify for slots in this year's Summer Olympics.
WHITEWATER SLALOM OLYMPIC TEAM TRIALS
Day One- two runs
K-1-W (WOMEN'S KAYAK)
1. Rebecca Giddens, San Diego, 230.54 seconds
2. Hannah Larsen, Atlanta, 243.59
3. Sarah Leith, Hulets Land, N.Y., 249.11
4. Gwen Greeley, Suamico, Wis., 251.39
5. Molly Stock, Potomac, Md., 264.38
6. Zuzanna Vanha, Bethesda, Md., 269.66
7. Mary Marshall Seaver, Durango, Colo., 270.72
8. Jamie Tidmore, Winchester, Tenn., 275.51
9. Ashley Nee, Darneston, Md., 315.63
10. Lauren Bixby, Bethesda, Md., 325.19
MEN'S KAYAK (K-1)
1. Scott Mann, Bryson City, N.C., 205.05
2. Scott Parsons, Bethesda, Md., 208.42
3. Scott Shipley, Boulder, Colo., 208.59
4. Eric Giddens, San Diego, 209.81
5. Bret Heyl, White River Junction, Vt., 212.68
6. Danny Stock, Cabin John, Md., 213.23
7. David Jacobson, Webster, N.C., 215.53
8. Jim Wade, Boise, Idaho, 217.03
9. Nejc Poberaj, Cabin John, Md., 217.92
10. Nick Kimmet, Wisconsin Rapids, Wis., 218.12
MEN'S CANOE (C-1)
1. Chris Ennis, Bryson City, N.C., 226.68
2. Sam Davis, Sylva, N.C., 229.44
3. Ryan Bahn, Durango, Colo., 230.70
4. Tad Dennis, Marietta, Ga., 233.74
5. Neil Quinn, Peachtree City, Ga., 236.42
6. Kurtis Palmero, Pomeroy, Pa., 245.38
7. Eric Amason, Arlington, Va., 246.65
8. Mackie Roberts, Atlanta, 247.87
9. Nick Lomas, Alpharetta, Ga., 253.20
10. Casey Eichfeld, Drums, Pa., 253.55
TANDEM CANOE (C-2)
1. Matt Taylor, Atlanta, and Joe Jacobi, Coperhill, Tenn., 226.74
2. Scott McCleskey, Sylva, N.C., and Dave Hepp, Cullowhee, N.C., 228.44
3. Frank Babcock, Canton, Ga., and Jeff Larimer, Marietta, Ga., 242.67
4. Bob Bofinger, Newmarket, Md., and Brian Zimmerman, Alexandria, Va., 385.19