History
Description
Course Diagram
Dedication to John Anderson & Scott Wilkinson
Opening Day 1991
Supporters
Race Day 1992
Building the Dickerson Whitewater Course American Whitewater March/April 1992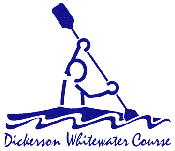 The Dickerson Generating Station was built in 1959 and the raging waters below its cooling water discharge
canal soon became known to outdoors enthusiasts. Fishermen found an excellent winter fishing spot in the warm
water below the plant. Whitewater boaters, too, found relief from the winter cold and a few good waves and
eddies to keep their skills sharpened for the warmer months. There were even some informal races held in the river below the plant by local slalom athletes in the mid 1960's.
Use of the site continued sporadically for many years but was limited to the area just below the discharge flume.
Everyone agreed that the place was under utilized considering its vast potential, and a few even dreamed of placing obstacles in the canal to create water features, but no one ever acted on the idea.
The 1992 summer Olympics in Barcelona saw the inclusion of whitewater slalom for the first time in 20 years. For this event a steep artificial river in the Spanish Pyrenees was unveiled a year before the games. There were far too many similarities between the new Olympic venue in Spain and the Dickerson canal to be ignored and the idea was hatched to convert the sluiceway into a training site for the American team.
The idea met enthusiastic support from PEPCO and a feasibility study was funded. A flurry of volunteer effort and donated services followed, and less than ninety days after the study was started, construction was complete and the American athletes were on the water in an artificial river that they called "awesome".
The Dickerson Whitewater Course stands today as the only Olympic caliber training facility of its kind in the world and certainly one of the most unique volunteer efforts by a power company and by private industry.
Location: Dickerson Generating Station, Dickerson, Maryland. ~ 40 miles northwest of Washington, DC.
Land owner: Currently Mirant. In 1991, PEPCO -- Potomac Electric Power Company.
Course operator: Bethesda Center of Excellence.
Course length: 900 feet.
Width of channel: 60 feet.
Water Volume: 200 to 600 cfs depending on power plant operations.
Water Depth at full flow: Varies from 8.9 feet at start pool to 2.8 feet at the fastest regions.
Water line width at full flow: Varies from 54 feet at start pool to 35 feet at the fastest regions.
Water temperature (winter): Up to a maximum of 35 degrees F above ambient of Potomac River.
Water temperature (summer): Up to a maximum of 20 degrees F above ambient of Potomac River.
Water source: Mirant Dickerson Generating Station open condenser water loop.