Snap Dragon Sprayskirts Pre-stretched shockcord sewn directly to skirt edge ensures a positive seal. We have been enjoying these durable, watertight C1 and K1 sprayskirts for years. As slalom cockpit sizes now vary, we order these skirts to fit your kayak or decked canoe -- please consult Snap Dragon Whitewater Fit List for recreational models.
Slalom Neoprene Basic Model K1 or C1 $120.

Durable Nylon II Neoprene, 10" body tube, extreme shockcord.
Reinforced outer edge add $20.
3 mm tube and 4 mm deck Neoprene, Black.
Competition Neoprene $137.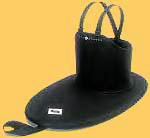 Bib style, 1" elastic shoulder straps, performance tested, durable.
Rim guard reinforcement, extreme shockcord.
3 mm tube and 4 mm deck Neoprene, Black.
The Competition Series Neoprene bib spray skirt is designed for slalom paddlers who want the durability of Expedition weight neoprene with the performance bib style top.
River Trek EZ Supratex Neoprene $120.


Durable, abrasion resistant features taut neoprene deck, easy fit shockcord.
3 mm tube and 3.5 mm deck Neoprene, Black.
Rapidly becoming a favorite of whitewater kayakers looking for a durable, abrasion resistant skirt. The River Trek features a taut neoprene deck, without the struggle of putting it on.
Snap Dragon Designs XS-XXL waist sizes:
| | | |
| --- | --- | --- |
| XS 26"-28" | S 28"-30" | M 30"-32" |
| L 32"-34" | XL 34"-36" | XXL 38"-40" |
We can custom order Snap Dragon sprayskirts to fit odd size cockpits, including larger cockpit C1s.

Trace your cockpit rim noting inside and outside rim diameters. Also include desired body tube position on the pattern for a custom order.

Contact us.