Potomac River & Greater Washington, DC Training

Potomac River Level Little Falls Gauge
NWS River Forecast Graphic Advanced Hydrologic Prediction Service
National Weather Service Mid Atlantic River Forecast Center
Local Weather conditions
Training opportunities with Coach David Hearn
Paddle Prattle Monocacy Canoe Club message board
Leptospirosis contracted above Old Anglers on Potomac River ~ CDC link posted 11/04
Potomac Paddlers Monique & Jim Hubshman Potomac River's paddlers, photos, playspots
Team River Runner Potomac kayaking soldiers
Whitewater Photos by Robert Leverton
Photos by Sarah Anderson Potomac River high water, Hurricane Ivan, September 2004
Whitewater photos by David Murray Potomac River paddling
Local Training Sites
Feeder Canal: Athletes and whitewater volunteers maintain year-round training gates on the Feeder Canal since the early 1970's, and hang gates on the Potomac River when the water levels permitted. The Feeder Canal is adjacent to the C & O Canal next to Lock #6 off of the Clara Barton Parkway. The Feeder Canal allows the Potomac River to feed additional water into the C & O Canal as it continues into Georgetown. There are 40 to 50 training gates here in class I-II at normal river flow levels.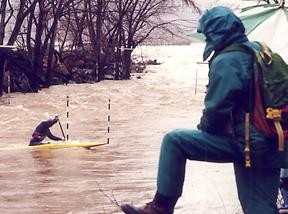 Davey Hearn on the Feeder Canal with Coach Silvan Poberaj
Bret Harris photo
Dickerson Whitewater Course: In 1991, the Potomac Electric Power Company, Pepco allowed the BCE to build an artificial whitewater course in the existing outflow canal of the Dickerson Generating Station simulating the 1992 Olympic course in La Seu d'Urgell, Spain. The river water is warmed as it cools the coal-fired generators prior to returning to the Potomac River.  The Dickerson Whitewater Course is particularly attractive for fall and winter training due to the warmer water and ideal water flows down the course.  The Dickerson power plant is now owned by Mirant, located in upper Montgomery County in Dickerson, Maryland.   The Dickerson Whitewater Course is the only year-round, warm water artificial training course in the United States that can be utilized by whitewater athletes year-round, from sun up until sun down. The whitewater course is open to actively training and racing whitewater competitors who must first register with the Bethesda Center of Excellence, BCE.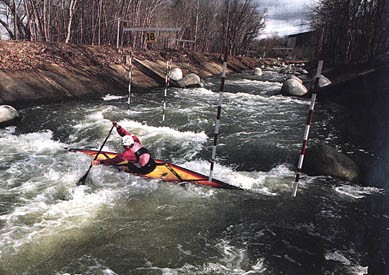 Davey Hearn working out on the new Dickerson Whitewater Course during the winter, 1991
David Taylor Model Basin: When weather prevents training on the Potomac River, Olympic hopefuls are permitted to train at the David Taylor Model Basin, Naval Surface Warfare Center. The facility is a US Navy lab responsible for the research, development, testing, and evaluation of ships, submarines and other marine technologies. Towing Basins can be used for traditional scaled ship model resistance, self-propulsion and flow measurement experiments.  Athletes are granted special permission to use us both the Deep-Water (22 ft deep, approx. 889 ft long and 50.96 ft wide) and Shallow-Water basins (10 ft deep, approx. 303 ft long and 50.96 ft wide) for training.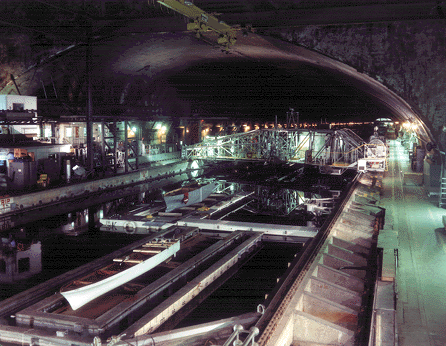 US Navy photo