Davey Hearn competed in the sport of whitewater slalom racing for over thirty years. Since retiring from international competitions in 2001, Davey has coached whitewater paddler of all ages interested in further developing their whitewater playing and river running skills, while also helping slalom athletes improve their success on a whitewater race course. Davey continues to promote whitewater racing across the USA and around the world. Davey & Jennifer also help paddlers find the right whitewater racing equipment at MWP, and they own Sweet Composites, a supplier of boat building and outfitting materials to whitewater canoe and kayak enthusiasts.
From these pages we hope you find lots of nuggets about training and racing whitewater slalom:
2008 Whitewater Festivals & Events
Canoe & Kayak Technique for paddling perfection, the Endicott Files, shoulder routine & more...
Breaking News Canoe Kayak Racing
Links to Whitewater Slalom Racing
Finding sponsors ~ Inspiration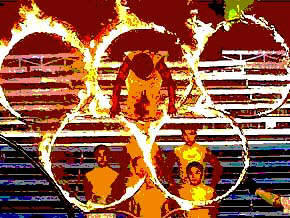 By the way, if you happen across any good links to related whitewater training and racing features, please pass them along and will add links to information from these pages. Thanks!