Whitewater Classics

By Tyler Williams, 2004. Destined to be a Whitewater Classic this is "part guide book, part history, part story book" featuring 50 of North America's best river runs picked by the continent's leading paddlers. Rivers feature the Potomac, Kennebec, Lochsa, Green Narrows, Ocoee, Gauley, Moose, Middle Fork of the Salmon, Yough, the Arkansas, just to name a few. The rivers are seen through the eyes of paddlers like Dan Gavere, Jesse Whittemore, Tanya Shuman, Charlie Walbridge, Kent Ford, Risa Shimoda, Cathy Hearn, Nolan Whitesell, Lars Holbek, Eric Jackson, Rob Lesser, Jon Lugbill, Jim Snyder, Davey Hearn, plus 36 more whitewater boaters! Well worth a read with some great photos too. 234 Color pages for $26.95.
Fast and Clean
Available on DVD, Russ Nichols production, 1979. A must have classic film for anyone interested in slalom racing. This great whitewater film follows slalom athletes like Jon Lugbill, Cathy and David Hearn, and others on the journey from the Team Trials to the World Championships $25.
Classic Virginia rivers: A paddler's guide to premier whitewater and scenic float trips in the Old Dominion by Ed Grove, 1992. Paperback with 352 pages, photos, maps, drawings, appendices, glossary, index, laminated card cover with Davey Hearn running the spout in 1985. Ed Grove covers 80 rivers and offers historical and scenic highlights, lists of relevant details, and degree of difficulty. $15.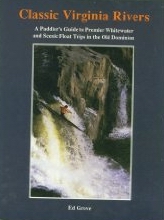 Every Crushing Stroke: The Book of Performance Kayaking
By Scott Shipley, 2001. Incredibly detailed look at what it takes to become the best in the world at whitewater slalom racing. Detailed workouts included, 110 pages. $28.95. SOLD OUT
The River Masters: A History of the World Championships of Whitewater Canoeing
By William T. Endicott, 1979. Index of racers 1949-1978. out of stock, shown for completeness.
To Win the Worlds : A Textbook for Elite Slalomists and Their Coaches
By William T. Endicott, 1980. 294 pages. Including More Than 200 Drawings, Diagrams, Tables, and Photographs. Written after the World slalom sweep by our USA C1s in 1979 at Jonquiere.
Out of print, please visit The Endicott Files, currently a work in progress...
The Ultimate Run: Canoe Slalom at the Highest Levels
by William T. Endicott, 1983. 524 pages. Technique in detail for each racing class; Physiology; Periodizing the Year; Psychology; Case Studies of 11 champion athletes, written after two years of interviews with top paddlers in every class.
Out of print, please visit The Endicott Files.
The Danger Zone: Downriver Canoeing at the Highest Levels
By William T. Endicott, 1985. 365 pages. Racing technique for wildwater canoes and kayaks. Types of workouts, World Champions case histories. Out of print, please visit The Endicott Files, currently a work in progress...
The River Chasers
By Sue Taft, 2001. Detailed history of American whitewater canoeing & kayaking , tracing the evolution of paddling though the people, rivers, and events over the last 60 year. 480 pages. $29.95
Carter River Guide
We turned up a cache of Randy Carter's famous book Canoeing White Water River Guide, eighth edition, 1974. This guide to running whitewater in an open canoe in Virginia, eastern West Virginia, and western North Carolina is a classic of canoeing literature, which should be in every serious paddler's library. $6 paperback or $10 for the hard-cover edition. Details here.
Burmeister River Guides
We have also turned up a supply of Appalachian Waters, Walter F. Burmeister's series of guides to eastern US whitewater streams. These were originally published by the Canoe Cruisers Association in 1962 in two volumes in 8˝" x 11" format. They were republished by Appalachian Books as an expanded and updated five-volume set in the mid-1970s. They appeared in both paperback and hard-cover editions. We have Vol 1 in hard cover and the others in paperback except for Vol 2, which remains out of print. These are plain-text books without any photos or drawings or any color. Each stream is divided into short sections, usually bridge to bridge, with distance and difficulty rating for each section and accompanying descriptive text. The descriptions are obviously dated since they contain no information on changes that may have occurred over the past 25 years. The maps referred to below are very generalized location maps. These books are primarily of historical interest. Most of the statistical data are accurate and remain useful to paddlers; however, readers should be aware that Burmeister ran many of these streams from his living room via topo maps, hence significant features are occasionally omitted from the descriptions.